The Fish Guy LLC
is a small, focused aquarium maintenance company that has been serving the Triangle since 2009. We currently service over a dozen tanks in the area ranging in size from 10 gallons to 400+ gallons. Each tank has its own dedicated Fish Guy or Fish Girl who is almost dangerously obsessed with the upkeep and well-being of your tank.
Our community of local and global suppliers allow us to offer competitive prices and unmatched service. Take a moment to browse through our photo gallery and look at a few of the tanks we maintain. We offer scaled services, from the occasional tip and helping hand to full-service aquarium management.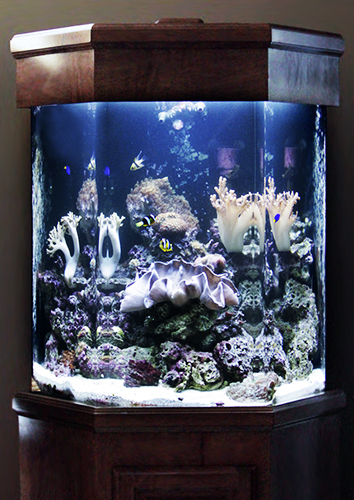 Love aquariums but not maintenance?
Aquarium enthusiasts who don't have time for the maintenance and mess can drop us a line and get a free on-site estimate from one of our highly trained technicians.
Just getting started?
If you are interested in adding a breathtaking slice of nature into your home or office, our staff will guide you through the process from picking the size and shape of your new tank, to selecting and stocking livestock, to routine maintenance.
Do you already have a tank you love?
Do-it-yourself aquarists can keep an eye on our tips and tricks section. It's constantly updated with articles and videos that reveal some handy techniques to save time and money and keep your aquarium pristine.
Contact Us
email us atEricNelson@TriangleFishGuy.com
or call us at (919) 633-7436
We're the #1 rated Aquarium Maintenance Company on Angie's List!
Check out our ad in Chapel Hill Magazine and Durham Magazine!
Client Reviews
"Great people to work with. Glad I was able to finally find a solution for my Sunroom!"
"Eric has been nothing but professional! I have been working with him for about a month now and he has been extremely patient with us and I want to make sure that we get exactly what we want. He has sent me several ideas and been working with us every step of the way. We are looking at a March/April install and looking forward to it. I would highly recommend them!"
"They were punctual, friendly, professional, and very qualified. I really can't say enough good things about this service and I highly highly recommend them."
"Eric, the owner of The Fish Guy, called back immediately and even though it was a Saturday and it was snowing, he came over prepared to repair the leak which involved a PVC pipe and joint under the aquarium. He covered the floor completely to protect it, and then cut out the leaking PVC, and replaced it. Working under an aquarium in a confined space is not easy, but he completed the work in a professional and efficient manner. I am very grateful to him for coming out on a Saturday, and not trying to take advantage of the situation."